High Street was a street that used to be in downtown Kokomo in the early days of Kokomo.
Background
Edit
Little is known about this street in Kokomo's history. It is thought to be on or very near where the current Supperior Street is downtown. It is known that the National Mitten Works (top right picture) was on that street, and according to the original broshure in the picture on 42-46 East High Street. It is also believed that the very original Kokomo High School (bottem left picture) was on the corner of High and what is now Apperson Way.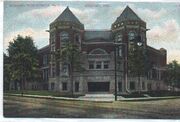 Other High Streets
Edit
Greentown's High Street
Edit
One block north of Payton Street in Greentown, Indiana. It is the northern most road in Greentown, and the last road on Merridian Street before you reach the Howard County Fair Grounds. It is only about three blocks long, and all residential. The traffic from this road is almost entirely the people who live on it. If it were to continue on it would be the middle road in the Greentown Estates Trailer Court as well.