LaFountain Street is a street in Kokomo, Indiana. It's now pronounced (La-Fow-n-tin), although it was originally intended to be (La-Fon-tay-n).
In the 1800's-1920's
Edit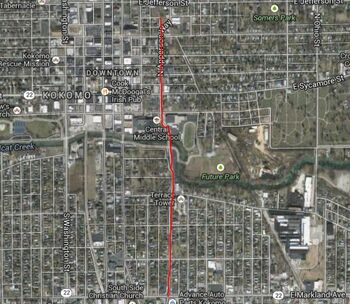 LaFountain Street started near
High Street
(now
Superior Street
) on the south end and ran up to just above
Taylor Street
right at
Jackson Street
(the spot where Apperson Way curves over in that area today). That part of LaFountain is
Apperson Way
in modern times. It would pick up again up on
Monroe Street
and end for the final time at
Havens Street
, which at that time was very small.
It also ran a very similar path to that up to at least 1917, with only a few extensions of it, it ran further north than Havens Street, down to Markland Avenue in a "T" intersection, and picked up again by Firmin Street like it does today, it just didn't go down as far as it does presently, only to Boulevard Street which would have been named Pumpkinvine Pike back then.
In Modern Times
Edit
Currently it's most notable for when it hits
Washington Street
and Washington Street is then called LaFountain Street, and then again when it hits
Reed Road
(Old Bipass US 31/Indiana 931) and changes the name of that road to LaFountain Street continuing south. However in the downtown area if you're on Apperson Way when that curves over above Taylor Street if you don't follow the curve and continue straight then that is LaFountain Street as well. LaFountain Street also starts one block south of
Defenbaugh
at
Firmin
(on a bend, its not an intersection) and it continues on through
Hoffer Street
,
Boulevard Street
,
Lincoln Road
, before meeting with Washington when Washington Street becomes that.
Main Attractions on LaFountain Street
Edit
Howard Regional Health System Hospital
Walgreens
Taco Bell
Grindstone Charlies
IHOP
Lowes
Culvers
Garden Square Inn
Subway
Souplys Wine And Spirts
Traffic Signals
Edit
Stoplights
Edit
LaFountain & Lincoln Road
LaFountain & Washington Street
LaFountain & Rainbow Drive
LaFountain at Howard Regional Health
LaFountain & Southway Blvd
LaFountain & Alto Road
There also used to be at light at LaFountain & Hoffer Street
4/3 Way Stops
Edit
LaFountain & Hoffer Street (used to be traffic light)
LaFountain & Boulevard Street (Also called Haynes Blvd)
LaFountain just before merge with IN 931/Reed Road at the Lowes parking lot entrance
Stop Sign only for LaFountain
Edit
LaFountain at Wheeler Street
LaFountain at Monroe Street
LaFountain at North Street
LaFountain at Morgan Street