A list of current and previous hospitals in Kokomo, Indiana.
Howard Regional Health System
Edit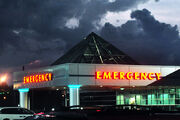 On State Road 931, and LaFountaine Street. It is the largest hospital in Kokomo, and had joined forces with hospitals in Indianapolis. There is a lot of specialization buildings for this hospital.
It now as a Subway in the Hospital as well as Big Ben Coffee in the building as well, and Steak n Shake also in the parking lot. Visitors or paitents that are allowed to go down can pay for food from the buffet tabels in the cafiteria, you pay for the food based on its weight there.
In the 1980s when it was just a local hospital and less state wide the hospital had a repuation for not being as good as it is now. It then had the nickname "Killer Howard" by some residents. Now Howard Hospital is favored more often than the other hospital, St. Joe. St. Joeseph now has a not so good reputation by some, although there is a nearly even line of people only like Howard or only liking St. Joeseph, residents of Kokomo have strong opinions on which one is better, normally citing they were born at one, the food is better at one, the staff is nicer at one, or that one is just simply far closer to their home. When it comes down to it though Howard Regional Health System simply has more and treats more than St. Joeseph does with the several external wings, internal wings, and outside Doctor officies, along with Walgreens Pharmacy right next door.
St. Joeseph Hospital
Edit
Formally it was the Good Samaritan Hospital.
It is the "other hospital" in Kokomo. It, and Howard are the only really large hospitals in Kokomo.
Good Samaritan Hospital
Edit
It is now
St. Joeseph Hospital
.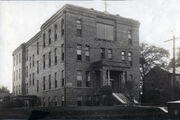 page to be finished later.